Augmented Reality has been making a lot of news in the field of digital marketing lately . The recent statistics show that AR has the potential to grow into a 90 billion dollar market by 2021. Augmented Reality Marketing is the most important  trend to look out for and there is no doubt about the endless possibilities it presents but, before we go any further let's us understand what it means.
Augmented reality(AR) is the seamless amalgamation of the  digital information with real time environment produced on top of an image, video etc. It actually enhances the information for a user in the real world. The user will normally use a smartphone, tablet or headset to view the world using AR. It basically adds to the world the user normally sees using digital overlays thus, creating a more interactive experience.
For instance, customers can just point their mobiles at a product in a store and they can get a view of the build, make, type, version and price of the product just at the tap of their finger.
So, how can businesses use it to their benefit? How can marketers create more brand awareness. Let's have a look at how AR is creating a digital foot print for itself in the field of marketing.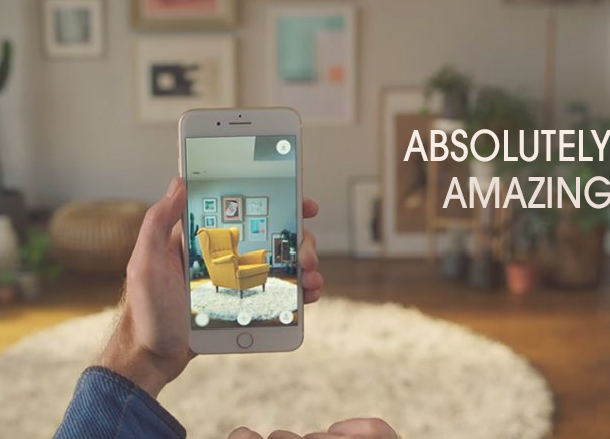 Amazing new marketing tool
As AR is gaining widespread acceptance, companies are adopting new marketing strategies to implement it.  For instance, IKEA recently launched it's App called Ikea Place that allows users virtually place furniture in their rooms and get a preview of how it will look in their existing environment.  It certainly improves the furniture-buying experience, and relieve some of the stress of measuring what will or won't fit in a tight space.
Sephora a beauty brand is another great example of this phenomena. It's AR based app allows users to virtually try on their new make-up products. Using the mobiles' front face camera within the app the customers can try different lip shades and decide if they want to buy it or not. It's an incredible and fun experience that increases brand loyalty and engagement.  AR has definitely opened a new portal in the arena of marketing and this trend is in for a long haul.
The new buzz word in Social media
Brands understand the need for social media presence and rely on it to advertise products and services. They have started incorporating AR as  part of their social media strategy.
Snapchat created a new wave with it's AR filters and marketing and advertising agencies have been using these filters to capture the audience attention. Snapchat has gone a notch above and introduced a self-serve platform called Lens studio. Using this platform creators, developers and marketing can create Ads for brand and agencies. Facebook also introduced its AR platform so that it can be used for creating and marketing Ads.The sheer scale of the market is unbelievable and it's up to marketing agencies and companies as to how they can leverage from it.
Augmented Reality Marketing is going to open new venues for content level marketing and we at F12 Media embrace this new change. We handle all sort of online advertising and branding. Contact us and get a free consultation.